K
rabbitSoft throws players
in front of the train with
Gripping New Demo
December 23rd, 2009


Story driven Cut Scenes
Heated interactive battles
Graphic tip screens
Experience high level, uber equipped, custom Krabbits.
Today KrabbitSoft released KWO_AD, advanced new demo for KrabbitWorld Origins. As an apology to web response to the current beginner focused demo, gamers will be immersed in true excitement of the game. Be entranced as the camera takes control playing out dramatic events heralding each interactive segment. Witness Teella's dramatic transformation from the lovely high priestess to the ghastly eyeless fallen. Acquire the advantage in the heat of battle with newly learned combo tactics. Play each of six level 92 Krabbits adorned in flaming, poison or ice bracers as you defeat the evil arch nemesis throughout numerous scenes. In the final epic battle defeat all characters you played.
Of the game, a Player describes: "The game has one of the most insanely strategic combat systems I've ever seen in an RPG!"
Of the advanced demo, a Player relates: "It was cool to see what my characters can get and become!"
Coming Features Q1 2010:
Story driven cut scenes will be integrated throughout the game leading the player's adventures
KWO Advanced Demo will be integrated as an advanced tutorial for the seasoned gamer

Quick keys tips screens in demo will become accessible in game


Primary Coming Feature:
P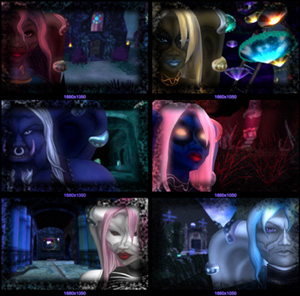 arty Play - Gather up to four party members consisting of both main and henchie Krabbits as you play through the quest stream. Experience your choice of six classes first hand, each with their unique powers and symbiotic weapon. Take control of individual party members at your discretion leaving the others to fight at your side or from a distance.



Gothic Alien Beauty of Krabbits Wallpapers:
Advanced demo background screens are now available as high resolution wallpapers; six hand painted portraits of custom Krabbits showing off their
Gothic alien beauty. This unique race comes into its own maturing as a
noteworthy IP bravely breaking the mold of same old same old.
KWO's extraordinary color engine gives gamers the means to create Gothic
beauties of their own.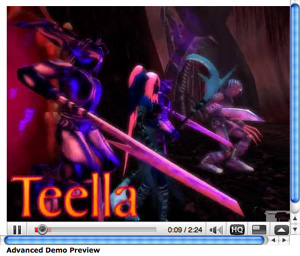 Advanced Demo Preview Video
Features dramatic story driven cut scene samples & easy to follow
instructions.
Previews depth of gameplay and game mechanics
More...


English 简体中文版 Nederlands Français Deutsch Ελληνικά Italiano 日本語 한국어 Português По-русски Español
KrabbitSoft Studios Inc. Copyright © 2000-2009 all rights reserved